Mission
Our mission is to save customers money and improve quality of the environment through independent energy solutions. Saket is not affiliated with any energy provider or with any equipment manufacturer. We make unbiased choices with regard to sources of energy supply, energy equipment and technical solutions. Our focus is saving money for the customer and not to provide an energy commodity or equipment. This has contributed in accomplishing our mission.
Core Activities of Energy Management Division
Energy management was recognized as a need of the day and Energy Management Division (EMD) was formed in 1995 with intent to decipher the Energy Conservation ideas into reality.

Energy Management Division (EMD) has played a pivotal role in establishing huge energy saving in large number of industries with the help of highly skilled manpower backed up by state-of-the-art microprocessor based instruments. The technical team of EMD comprises of well-qualified engineers, having thorough experience of undertaking the study of energy systems in various segments of industry.

Energy Management Division well placed today to offer a comprehensive service package comprising of: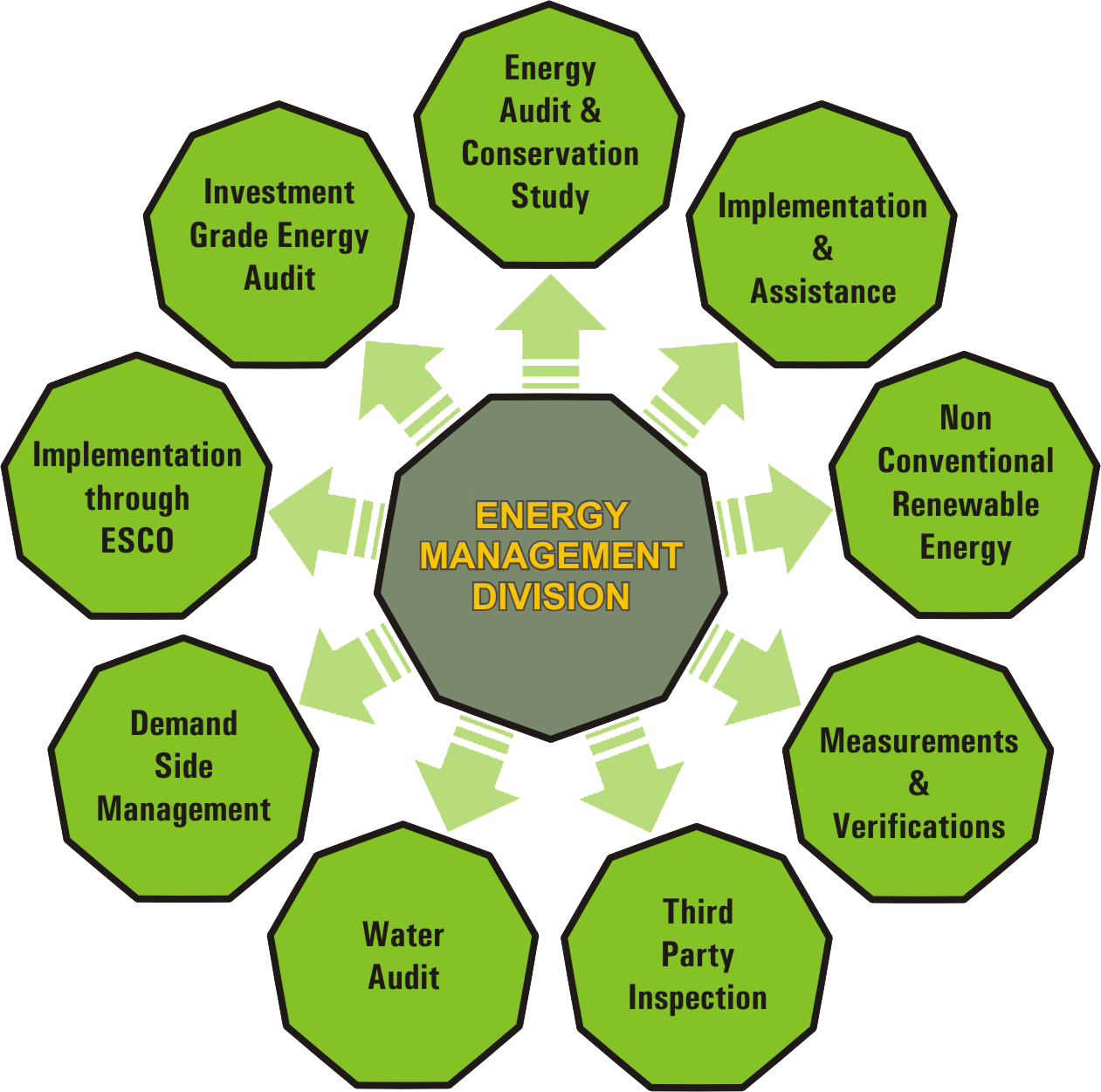 Besides, we have the financial and technical capabilities to undertake Design, Detailed Engineering, Execution & Commissioning of EE (Energy Efficiency) projects under ESCO Concept with performance guarantee. Under the contract, ESCO finances the project either through own funds or by borrowing from third party. Thus, the ESCO not only takes-on the performance risk but also risk associated with customers' credit worthiness.

Saket possesses crucial infrastructure facilities such as sets of latest microprocessor based measuring instruments and a well-equipped computer LAN center for data analysis and presentation. The Energy Management Division is doing a commendable job by creating an awareness of Energy Conservation with technically feasible solutions.

Our Energy Auditors not only carries the Techno Feasibility Reports but also goes beyond that and helps its clients in Financial Monitoring, Understanding Financial Returns with aspect to specific time frame. Like this we carry out all the technicalities while doing Energy Audits, we also help our clients to better understand the financial implications, the period of returns, evolution of good vendor for implementation and assistance. So like this our team gives assistance in both the manner namely Technical Feasibility and Financial Feasibility.

In the current competitive scenario of the industries, Saket has played a crucial role with its exhaustive experience and expertise in enhanced operational and management practices within the stipulated time frame.

SAKET has emerged as an unrivaled leader in the field of "Energy Management" across the Gujarat State as well as the National Level.
Empanelment with State and National Agencies
SAKET pioneered energy audit/conservation activity not only in the state of Gujarat but also at the nation level. Saket has been honored to be the First private sector company in the State of Gujarat to get empanelled as authorized energy auditor from the Chief Electrical Inspector, Government of Gujarat.

Bureau of Energy Efficiency (BEE), Ministry of power, Government of India has qualified Saket projects Ltd as an "Energy Service Company (ESCO) – Grade – 2".
SAKET has been also recognized as approved energy auditor in the panel of:
Recently, Saket has been authorized by Energy Efficiency Services Ltd (EESL) under PAT scheme.
Sectorial Analysis
Saket has, to it's credit, a large portfolio of Energy conservation assignments in diverse industrial segments as- Petrochemicals, Textiles, Engineering, Paper & Pulp, Fertilizer, Pharmaceuticals, Dairy, Chemicals, Rubber, Infrastructure, Water / Sewage Pumping, Airports, Railways, Commercial Buildings, Hotels, Government / Semi Government Institutions, Municipal Corporations/ULB etc.

Saket has been successfully conducted the energy audit assignments at prominent industries groups i.e Reliance, Nirma, Cadila, UPL, Bayer ABS, ONGC, Gail, Amul Dairy, Somany Ceramics, J. B. Chemicals, Torrent, Asian Paints, Hindustan Zink, GWSSB, GIDC, Various Municipal Corporations etc.

The detailed break-up of the sectors successfully audited is provided in the pie chart here under –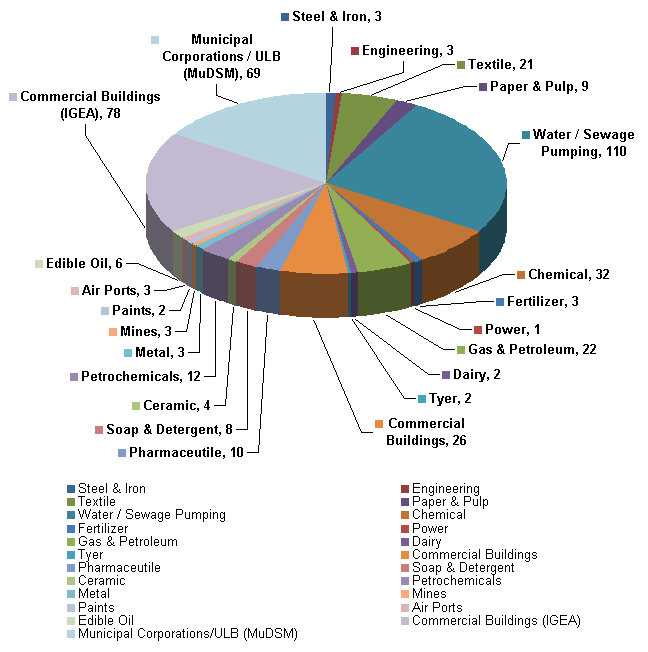 We have successfully conducted more than 500 nos. of detailed Energy Audits. EMD has introduced a unique "Save & Share" concept, which leads in a Win-Win situation. The experience has allowed EMD to offer a comprehensive ESCO package to its clients.

We have conducted varied audits in diverse industrial sectors successfully. This has resulted in not only sustainable growth but also energy savings of more than Rs.125.0 Crores/Annum. The saving in Electricity is above 45.0 MW in various industries.
Instruments Strength of Energy Management Division
Recognizing the need for precise energy measuring instruments, Saket has acquired Sophisticated fourth generation microprocessors based instruments, which are non–intrusive and can be used without any hinder to operation/production. Availability of multi sets of instruments has resulted to flexibility and versatility in executing nos. of assignments simultaneously. We have focused on sophisticated instruments that may comply with modern development.
1.
Ultrasonic Flow Meter
04 sets
Range :
± 40 ft/sec. unto 100ft/sec. (0.25" to 360")
Type :
Doppler & Transits type
Accuracy :
± 0.3% to 0.5%
Feature :
Inbuilt Totalization, Data Logging at programmable time interval
Application :
Measurement of Flow rate of any liquid at various temperature/velocity/density
2.
Power Analyzer / 3 Phase Clamp-on Meter
08 sets
Range :
1Ø & 3Ø Balanced & Unbalanced system
Accuracy :
0.3% FS + 0.3% reading - True RMS value
Application :
Measurement of electrical parameters –
V,I, KW, PF,KVA, KVAR, HZ, KWH & KVARH
Data logging Facility Up to 24th V & I Harmonics Study
3.
Digital Pressure Transmitters
02 nos.
Range :
0-10 kg/cm2
Accuracy :
± 0.075% of calibrated span
Range :
0-10 Kg/cm2
Application :
Measurement of pressure S.S. Diaphragm type
4.
Differential Pressure Transmitter
04 sets
Range :
0-10 Kg/cm2
Application :
Measurement of Differential Pressure
Accuracy :
±1% or better of calibrated span
5.
Flue Gas Analyzer
04 sets
Application :
Measurement of O2, Co.S Stack Temp, Ambient Temp. Excess Air Combustion Efficiency
6.
Multi Function Measuring Instrument
01 no.
Model :
Testo 435
Make :
Testo India Pvt Ltd
Range :
Temp. : -50..+ 150o C
Humidity : 0…+ 100% RH
Hot Wire : 0.6.+ 40 m/s
Pressure : 0…+2000 hPa
Lux : 0…100000 Lux
Application :
Measurement of Temperature
Relative Humidity, Velocity, Lux
Pressure
Application :
Measurement of Flow rate of any liquid at various temperature/velocity/density
7.
RTD Digital Thermometer
02 nos.
Range :
0-200oC to 0-630oC
Accuracy :
± 0.3oF to + 2oF depending on Temperature span & Resolution
Application :
Measurement of Temp.
8.
Digital Lux Meter
04 nos.
Application :
0 to 50,000 lux - 3 ranges
Accuracy :
± 5% (2 digit)
Application :
Measurement of light intensity
9.
Digital Clamp-on Meter
01 nos.
Range :
AC Voltage - up to 600V


Resistance - up to 100mohm


AC/DC Current - up to 1000 A
Application :
Measure ACA, DCA, ACV, DCV, Resistance, Diode, Continuity, Temp.
10.
Digital Industrial Multimeter
04 sets
Range :
30 mv to 1000V, 3 mA to 300 mA
Accuracy :
Basic Accuracy 0.1% / 0.25%
Application :
For measurement of V, A & Temp
11.
4½ Digit Micro-ohm Meter/Multimeter
01 no.
Range :
0-1 P ohm to 20K ohm.
Application :
For measurement of Voltage, Ampere, Resistance
12.
Non-contact Tachometer (With Tip Attachments)
01 no.
Range :
30-1, 00,000 RPM
Application :
Measurement of RPM
13.
Vane Type Anemometer
05 nos.
Range :
0.4 to 30 m/s
Accuracy :
Measurement of Velocity
14.
Machine Conditioner Analyzer/Tachometer
02 nos.
Make :
SPM Instruments, India
Model :
A-30
Range :
Shock Pluse - 19 to 99 dBsv


Vibration severity - 0.5 to 49.9 mm/s RMS
Speed - 10 to 19999 RPM optical
Temperature : -20oC to +350oC
Accuracy :
Shock Pulse - 1 dBsv


Vibration severity - ±(0.2mm/s + 2% of reading)


Speed - ±(1 rev. +0.1% of reading)
15.
Sound Level Meter
01 no.
Range :
35 -130 db
16.
Insulation Tester
01 no.
Rated Volt :
500 Volts
Range :
Up to 100 M ohm
Application :
Measurement of Resistance
17.
Temp. & Humidity Meter
02 nos.
Application :
Measurement of Temp. & %
Relative Humidity
18.
I. R. Thermometer (Heat Spy)
01 nos.
Range :
0-1380oC
Target size at focal :
inch dia. at 2 feet.
Point Practical Working Distance :
0-40 feet
19.
Ultra Sonic Leak Detector
01 no.
Range :
0-30 m
Accuracy :
Detects 0.005" (0.127mm) dia leak @ 5psi (0.34 bar)
at a distance pf 50ft. (15.24m),
Accurate 1% throughour entire scale
Application :
Vacuum/Pressure Leaks, Bearing Condition,
Stem Trap Inspection, Compressed air/gas leak
Man Power Strength
Our Energy Management Division is working under the dynamic and able leadership of Mr. Kaushal Shah a Certified Energy Auditor by the Bureau of Energy Efficiency (BEE). He has more than 20 years experience in the field of Energy Audit & Conservations. The EMD is ably supported by full time employees having relevant experience of the energy field.

We at EMD have enforced on the scholastic and an experienced background as far as project execution is concerned for the industrial audit. With the blend of fresh talent and maturity, we are able to offer innovative solutions to intricate situations encountered during the project implementation. Our technical team is skilled and possesses expertise to handle major projects.

Our technical team has been given training for performing better on regular intervals so that they can cope up with the latest techniques and with the latest instruments usage. Our auditors are also sent to attend the technical seminars / training programmes for there Updation of knowledge in the field of energy conservation. So like this our team not only gets the in-house training but also sharpens the knowledge and skill by attending the training / seminar programmes.

Apart, our team possesses proven experience of project execution, equipment commissioning including overseas projects to suit the complexity of a particular assignment to optimize the savings. Moreover the interactions in daily review meetings generate lot of interest and awareness for a cohesive culture among the employees. Our manpower has gained significant familiarity for the development of software tools self sufficiently e.g. - Energy Forecast Model, Decision support Software for efficient equipment operation and Equipment Maintenance Management needs.

We deploy our technical team for the high-quality service backed by forth generation instruments during their operating span to respond to the rapidly developing world with their entrepreneurial approaches and timely decision-making.
Achievements
This recognition to our efforts was further endorsed by State Government of Gujarat through an award and at National Level this recognition came when SAKET Energy Management Division won runners up award of the PCRA.